Change A Dog's Life
Fosters are the heart and soul of B-Squad Dog Rescue! If you have a love for animals, making a difference, and a can-do attitude, you may be the perfect foster!
Because we don't operate a shelter, fosters are a vital part of B-Squad Dog Rescue. We can only rescue as many dogs as we have committed fosters. Many of our dogs come from unfortunate situations and desperately need help. We can only commit to rescuing them if they have a place to go. Fostering saves their lives!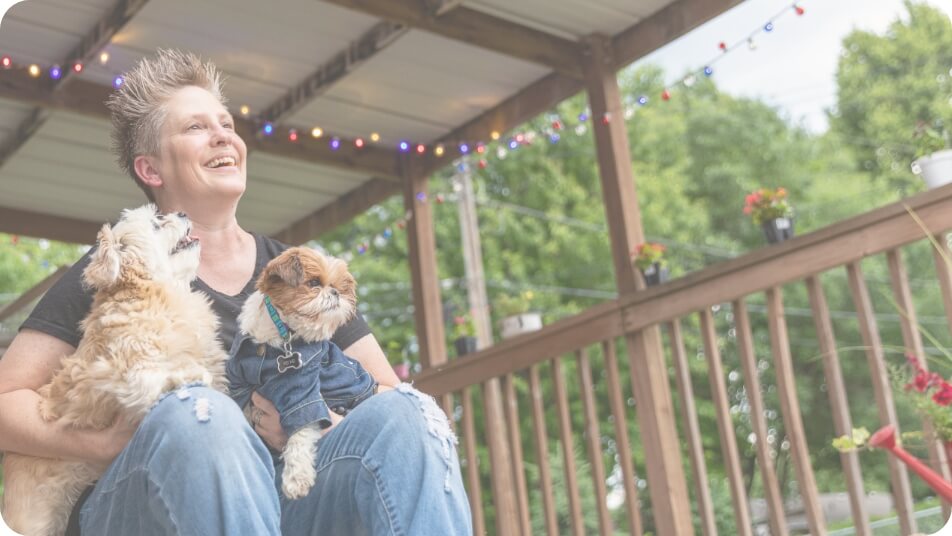 Frequently Asked Questions
A:
Fosters provide temporary, in-home care for puppies and dogs until they are adopted into a "forever" home. Aside from regular daily care (i.e., feeding, exercise) the responsibilities include, but are not limited to: basic training (i.e., housetraining, walking on leash); behavior modification (to correct problems such as jumping); socialization and temperament evaluation (to determine whether the dog is good with people and other animals); medical care (taking the dog to vet appointments, dispensing medication); taking the dog to adoption events; and of course plenty of playtime and snuggles. Your Foster Mentor will be there to assist you the entire way.
A:
B-Squad Dog Rescue assumes responsibility for all necessary expenses related to the dog's well-being, i.e., food, crate/kennel, collar, leash, and toys. Many fosters provide their foster dog with toys, and other items as a donation; although this is not required. Certain rescue-related expenses are tax-deductible; keep all receipts and consult with your tax preparer. All veterinary expenses including vaccinations, deworming, microchipping; spaying/neutering, heartworm treatments, flea/tick treatments, medications, and emergency veterinary care are covered by the rescue. Donations of toys, dog beds, treats, blankets, etc. are distributed to fosters as available.
A:
Of course! Fostering is a great way to socialize and give your personal pets a playmate. B-Squad Dog Rescue requires that your personal pets are at least a year of age and up-to-date on all vaccinations.
A:
Fosters must have the dedication to keep the foster dog until it is adopted into a forever home. This can take anywhere from a few weeks to several months or more. Some dogs will need to remain in a foster home to overcome an injury/illness; senior dogs or dogs with special needs may take a longer period of time to find a suitable forever home. B-Squad works diligently to provide dogs with a carefully screened, permanent home in the timeliest manner. Your foster mentor will discuss the types of dogs/puppies you would like to foster. For example, puppies, adult dogs, seniors, special needs, etc.
A:
Yes! We often need fosters who can foster on a short-term basis (i.e., while a foster is on vacation). If this is something you would like to do, indicate "Temp Foster" on the application.
A:
Fosters who wish to adopt their foster dog (or another B-Squad dog) must follow the standard adoption process, including submission of the Adoption Application, Veterinarian reference check, and payment of full adoption fee. Fosters of B-Squad Dog Rescue will have the first opportunity to adopt. All other applications are processed in the order they are received. B-Squad has the right to deny an adoption application for any reason they seem fit.
A:
Becoming attached to your foster dog is a common occurrence. The best way to handle this is to not think of the dog as "yours"; you are the dog's temporary caretaker until their forever family adopts them. The easiest way to keep from getting too attached is to remember that there is another dog waiting for someone to save them. We encourage all of our fosters to participate in transporting as well. It is much easier to foster when you realize the situation these dogs/pups are coming from and seeing the ones that are left behind due to not having fosters available. We've said it before, fostering saves lives!
A:
We do not limit our fosters to living within a certain radius, however, we do require that all of our fosters come to the Brandon to pick up their foster dog and use our approved clinic for veterinarian care, which is located in Sioux Falls.
A:
Complete the application found at the link below. After review and reference checks are completed, you will be assigned a "Foster Mentor" who will contact you to talk further and schedule a home visit. A home visit is an informal meeting in your home to answer questions and discuss your desire and ability to foster a dog. Your Mentor will provide ongoing guidance throughout your fostering experience.